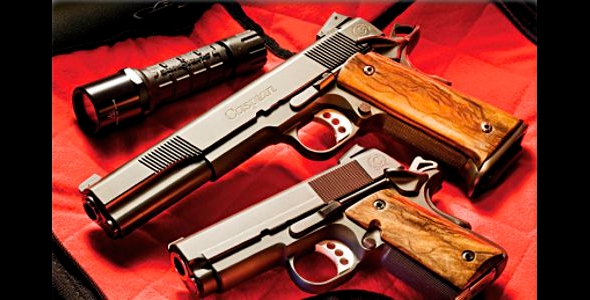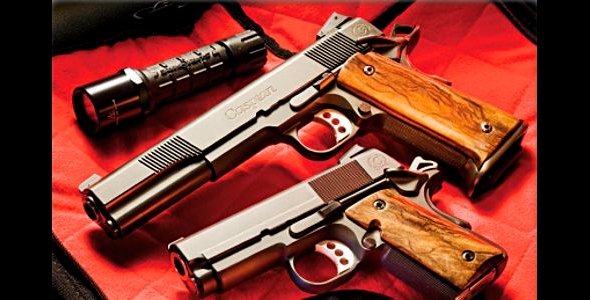 Tussey Custom .45ACPs Are Beautiful 1911's:
Two Tussey Custom .45ACPs are beauties that flaunt the top pistolsmith's craftmanship. These 1911's are sound tactical weapons and they're gorgeous!
Anyone who even casually looked at the shelf of gun magazines at his local newsstand might notice that there are lots of custom 1911 pistols pictured there. There are fat ones that take bottomless magazines and skinny ones with single stack tubes that take only a few. You can find fancy ones with snakeskin grips and Damascus steel slides, or real flashy ones with dayglo polymer frames and gold-plated slides.
Engraving gets into the act, sometimes finished off with dragon-carved ivory scales with ruby eyes on the beast. Some of these guns have specialized accessories like massive compensators that would tame the recoil of an 8-inch howitzer. Others need special levers to rack the slide because the user can't get around the optics that rival that of Mount Palomar in size. The custom smiths have done their work and, as far as I am concerned, if these kinds of radical 1911s are what it takes to trip your sear, well, so be it. I have my own share of oddball pieces.
Take the two guns in this story, for example. Although they are downright plain by contemporary standards, these two 1911 .45ACPs serve to stretch the envelope, as it were, in an effort to see what the practical size limits of the genre actually are. In other words, how far can you go in lengthening a 1911 style pistol and still have a sound tactical instrument? Conversely, what makes practical common sense in reducing a 1911 pistol down to watch pocket size? To get them from concept to reality, the long and short of it. I turned to the seldom-genial master of Tussey Custom.
Terry lives with the curse of residing within a few miles of me in the sagebrush country of western Nevada. He therefore has to put up with me dropping by with eternal questions about how this is done and how that works. Having worked on his first pistol for money in 1960, Terry has an unending string of answers for my equally unending barrage of questions. Terry is, in my opinion, one of the very best pistolsmiths in the country, as well as a hell of a good friend.
Terry Tussey
Tussey built the these two pistols over a considerable span of time. The little .45 is known as a Tussey Junior and shares the same origins as the other, Long Slide pistol. Both are made on Caspian slide and frame assemblies. In the case of the Junior, he used a special proprietary frame once made by Caspian for his use. Terry started this gun in the early 2000s, squeezing in a little work here and there between jobs for cops and other guys who really needed their gun finished. When the little bruiser was done, Terry indulged a whim of mine when I was working on a 1911 .22 conversion unit story. It took a great deal of time to whip the amazingly complex series of challenges that marked that project, but he was able to make an ultra short .22 conversion unit. Eventually, it was done and duly recorded. About the same time, we were having a series of conversations about longer guns in the same class. Time passed and he began work on the long slide .45 project. Then tragedy struck.
When I say tragedy, I mean tragedy with a capital T. Terry's hobby and fitness medium was mountain biking. In June of 2005, while whizzing down a mountain trail, Terry Tussey hit a rock in the road, went over the handlebars and landed in a ditch. Although he got almost immediate and high-quality medical attention, the damage was done. My friend was paralyzed from mid-chest down, doomed to spend the rest of his life in a chair. For most men, such a setback would mean the end of a great career. For Tussey, whom Wayne Novak calls "the toughest guy I know" it was a speedbump on the highway of life. In all the time since it happened, I have never heard him utter a single word of complaint. He simply accepted what happened and attacked the problem like he attacked everything else in life.
At the time he was injured, Tussey was in the process of taking on a new apprentice. After the physical therapy and adjustment to a motorized chair, Tussey was back in the shop. John Indell is a competent pistolsmith on his way to becoming a great one, so they decided how things were going to be and went to work. There was a period of adjustment as Terry developed a bench that he could work on. Originally, Tussey was going to lower his milling machine to chair height, but that never worked out. John is now sometimes referred to as "the adapter" as he can work the stand-up mill. The two guys worked their way through a long backlog and are now taking commissions for new guns. It was John Indell who finished up some of the mill work required to complete my long slide pistol. I have looked closely at some of the project guns that come out of the new Tussey Custom. They are as good as the many great guns Tussey made before the accident. Terry still does a great deal of the fine hand work and John backs him up with the heavier stuff. They are a great team.
Tussey Long Slide
The Long Slide 1911 is a perfect example of that. Made from a Caspian Arms 6-inch slide and Race Ready frame, the muzzle-heavy pistol is pure 1911 in all particulars, except length. It is also an amazing example of modern American pistolsmithing. Parts from the best known makers in the business come together in this gun. The barrel is one of Clark's match type, originally made for bullseye guns. Fitted by Tussey and Indell, it delivers Camp Perry type accuracy. The barrel bushing is from Ed Brown and so are the grip and thumb safeties. The mainspring housing is a Smith & Alexander and the trigger is one of the long units from Videcki. My .45s have Novak sights and the Long Slide is no exception with the new adjustable rear sight in plain black. All of these parts go into the Caspian main structures of the gun.
The Race Ready frame is a single stack unit that differs from the standard in that it has a magazine well that is integral with the casting. This required a special contouring of the mainspring housing by Tussey. Also the mainspring housing and frontstrap are 30-lpi (lines per inch) checkered. By the way, all checkering is done in-house at Tussey Custom. The gun is finished with a light bead blast and blued.
To finish off the gun in elegant, but restrained style, I rooted about in the wood box and found a nice stick of claro walnut. I took it to Nevada's grip craftsmen, Tony Rist, with special requests for the shaping of the grips and their slightly different fitting to the frame. A Race Ready frame has an integral magazine well with a slight forward hook to the frontstrap. Rist matched this shape to perfection, then finished the grips up in a dull oil sheen.
Tussey Junior
Restrained elegance in the grips of the Long Slide carried over to the grips for the Junior. Tony Rist used the other end of that hunk of walnut to make panels for that itty-bitty butt on the little gun. The two guns match in finish, grips and maker. Tussey developed the Junior concept several years ago. Noticing that Brownells still had Metalform magazines for the little Detonics pistol, he set out to modify Officer's ACP guns from Colt to take them. The Detonics gun had a frame that was 0.38 of an inch shorter than the ACP, but still accepted 6 rounds of .45 ammo. He developed a way to shorten the butt and the mainspring housing on one of the little 3.5-inch Colts. This created an ultra short little pistol that he still builds on Colts, Springfields and Kimbers. My Junior came from a Caspian frame that is no longer in production, but was available then. The slide is also Caspian, with a similar menage of parts including a Bar-Sto barrel.
On this gun, which is shorter than a Colt Officer's ACP by a half an inch in the slide and 0.38 of an inch in the butt, the concept was to go as light as possible. The frame is lightweight aluminum, but since it was intended to be fired a great deal, Tussey inletted a steel feed ramp into the unit. The all-steel slide houses a Bar-Sto barrel, but also works with a double spring arrangement of Tussey's own design. To get the weight even lower, Tussey fitted an aluminum block into the slide top, just forward of the Novak sight. The gun weighs just 20 ounces, which contrasts rather sharply with the 43-ounce weight of its long slide stablemate. Both guns work to perfection. They are fine examples of the pistolsmith's craft.
So what does all this prove? I think that we can conclude that the Junior is about as small a gun as is feasible. In my hand, it is about a 2-finger grip, which is enough to hang on to when you control a nasty-kicking little .45ACP. It carries very easy, tucking away in a belt slide rig or even dropped into a jacket pocket or fanny pack. Tussey has been playing around with a shorter 5-shot version and we'll have to wait and see if that one works. It's a 2-finger gun.
If the Junior is small and concealable, the Long Slide goes the other way. The extra weight tames recoil to a considerable degree and the extra inch of sight radius improves sight alignment. Best of all, the extra 3-plus ounces of weight (over a standard 5-inch 1911) is all in the front and that balances well and points easier when used in the modern Weaver stance. If you went any longer, I think you would have too much of a good thing.
Final Notes
Pistols of these two styles are Tussey's primary armament and he carries all the time. I did not know this until my most recent conversation with Terry, but it would seem that this validates the concept as well as the craftsmanship of the "toughest guy I know." That's Terry Tussey, pistolsmith.
Article By Wiley Capp
From Combat Handguns, August 2009
Images by Ichiro Nagata