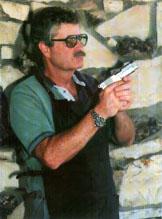 Tussey was an old school pistolsmith, a one-man-shop practitioner who zeroed every gun he built himself.
"I bought a .45 when I was 17 years old after reading Cooper's Fighting Handguns. I already had a lathe at home and I started working on triggers. I got hired by [Los Angeles gunshop owner] Martin B. Retting in late '59 and that was my first paid job working on guns. I've actually done trigger work and part-time gunsmithing ever since," said the veteran customizer.
Tussey worked as a sales rep for Safariland and Colt during the '60s and '70s to supplement his gunsmithing sideline.
"In '79, I gave up all the extra stuff and went strictly into building custom pistols, kinda forced out by telemarketing. My middle daughter took over my route selling guns while I made the transition. She did it for no pay, just to help the family out," said Tussey, a father of four and grandfather of nine.
"I haven't caught up since 1981. Three to six months is the backlog," he added with a wry smile.
On June 1, 2005 while riding in the hills above his shop, Terry crashed on his mountain bicycle. He flew through the air for about 30 feet and landed on some rocks in a ditch. He broke his neck, his back in 3 places and various ribs. He was paralyzed from T3 down. After spending almost a year in the hospital and rehab, he was back to work in 2006.
After the accident he was very fortunate that his hands and arms work perfectly. As Terry said, "I don't use my legs and feet to work on guns". He went back to work at his (modified) bench and worked 6 days a week.
One of the world's BEST gunsmiths, Terry Tussey, passed away on November 14, 2020. He is already missed by everyone who knew him. His work will continue with the help of his apprentice, Kevin Smith, and those he choose to mentor.
Kevin Smith has been Terry Tussey's apprentice since 2012 and had become his righthand man. He now carries on in the Tussey tradition.