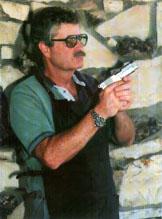 Terry Tussey was an old school pistolsmith who zeroed every gun he built himself. "I bought a .45 when I was 17 years old after reading Cooper's Fighting Handguns. I already had a lathe at home and I started working on triggers. I got hired by [Los Angeles gunshop owner] Martin B. Retting in late '59 and that was my first paid job working on guns. I've actually done trigger work and part-time gunsmithing ever since," said the veteran customizer.
Tussey worked as a sales rep for Safariland and Colt during the '60s and '70s to supplement his gunsmithing sideline. "In '79, I gave up all the extra stuff and went strictly into building custom pistols, kinda forced out by telemarketing. My middle daughter took over my route selling guns while I made the transition. She did it for no pay, just to help the family out," said Tussey, a father of four and grandfather of nine.
"I haven't caught up since 1981. Three to six months is the backlog," he added with a wry smile.
Kevin Smith now carries on in the Tussey tradition. He had been Terry Tussey's apprentice since 2012 and had become his righthand man.