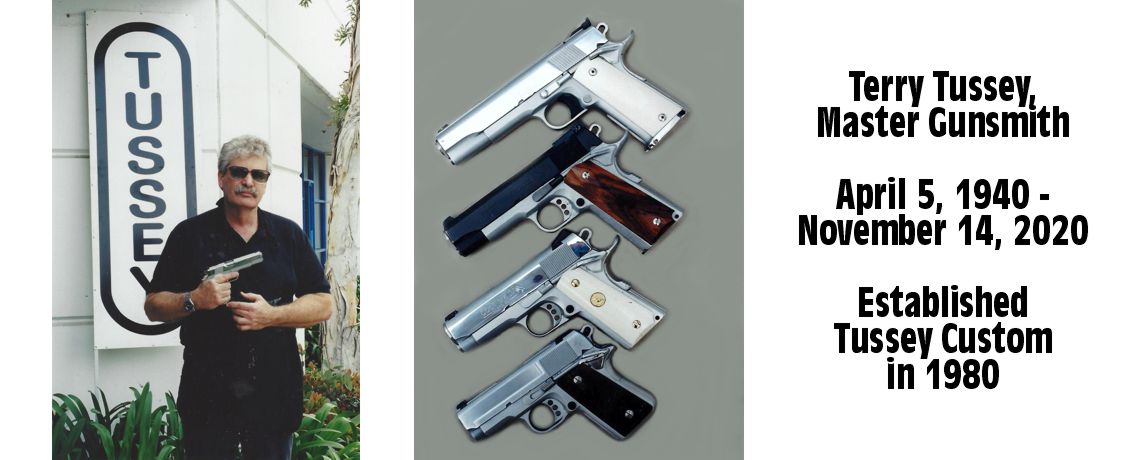 It is my sad duty to report the passing of Terry Tussey, ace pistolsmith and close personal friend. Terry succumbed to complications of a respiratory infection on the 14th of November. He was 80 years of age. Survived by his wife Teresa and four grown children, Tussey maintained a gunsmithing operation near Carson City, Nevada. At Tussey Custom, he specialized in custom work on all types of handguns for 40 years and informally worked on guns since he was in his 20s.
Regular readers of this column may recall Terry's work on several custom projects of mine. Tussey built the Trython revolvers that drew considerable reader interest, as well as the Colt Sheriff's Model with removable cylinder. Terry was well-known in the custom pistolsmith community. As an innovator, he developed several interesting features such as the Stealth-Comp for automatic pistols. He also did special 1911 pistols for actor Steven Seagal.
Terry moved to northern Nevada at about the same time as I did, so I was able to enjoy a quarter-century of friendship and learning from this gifted craftsman. In addition to being an artist in steel, Terry was one of the toughest personalities I have ever known. He was an active shooter, fisherman and outdoorsman until the summer of 2005, when he hit a rock while mountain biking and went over the handlebars into a ditch.
Tussey suffered multiple injuries and was paralyzed from mid-chest down. It took about a year of rehab, but my friend went back to work and completed scores of fine custom handgun projects—from a motorized chair. I saw him often in these most recent years and never heard a word of complaint. Rest easy, my friend.
Tussey Custom will continue. His wife Teresa is a strong woman who has kept the books for years and is perfectly capable of managing several younger gunsmiths that Terry had been bringing along.